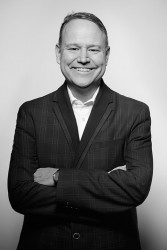 Patrick Thibault
Chief Financial Officer, Lune Rouge
"I joined Groupe Lune Rouge, not only for the exceptional group of people I have the pleasure of working with, but also to help our founder to execute his projects and his inspiring vision of the future."
Often described as someone who loves the challenge, who can weather the storm, who always sees the bright side despite adversity and never gives up.
With 30 years of experience in senior executive roles in finance and operations, my current focuses include coaching, mentoring and growing the skills of people that I work with. I leverage creative thinking in the implementation of synergies, optimizations opportunities, strategic planning and investor relationships. I also act as a change and simplification agent as well as being a sounding board and advisor to the CEO and other executives. Simply put, I see my role as to help them be successful, increase sales velocity and accelerate value creation for our shareholders.
During my career, I have overseen teams of professionals spread out across North America, Australia, Asia and Europe.